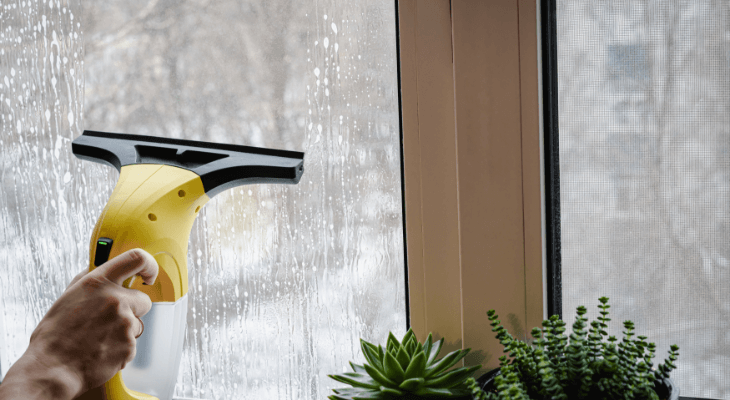 Window Cleaning
Are you looking for top-rated window cleaning services in your region? Use our services, and you will look no further! We have successfully established our brand as a mark of excellence in the cleaning industry in the past forty years.
Enjoy your evening coffee with a mesmerizing view of the sky as you now have clean and transparent windows! We all dream of this perfect evening, but dirty glasses can play the spoilsport.
When it comes to glasses, all the dust and dirt gets accumulated on them, which can cause allergic reactions, which can be hazardous to health!
You may think that wiping it with clothes is enough for cleaning, but it is a common misconception. Cleaning windows adequately requires specialized equipment and some professional help to clean them properly without damaging them in the long run.
Our competent professionals clean the dirt, dust, grime, and watermarks which helps add life to the glass and adds beauty to its appearance! We use the best and updated cleaning equipment and our costs are comparatively lower than others. Using eco-friendly cleaning products has made us a favourite for top corporates as their motto is the same as ours, to go green!
This protects the area already cleaned as drips, lather or cleaning solution usually drop off to the bottom while cleaning.
Perfection comes from the fact our technicians love doing their job! We start cleaning from the top and then go to the bottom.
Our professionals make sure that we wash every window and make it clean as a new one!
For this, we clean with squeegees that don't create any streaks. Squeegees are very effective for cleaning stains or varnished woodworks. Our professionals make sure that we use squeegees that are fitted with a stable rubber blade. For better results, we change the rubber blade once a day as the blade's edge can get rounded, nicked, sliced!
We use a handheld applicator and squeegee to scrub your window panes. For rinsing, we use carbon fibre and a water-fed pole! As the Canadian properties have high windows, our professionals carry equipment which makes it easier to reach every pane! If your glass is heavily stained, we will make sure to do the glass restoration with ease!
Take the backseat and trust our professionals to give you the shimmering windows like never before. Bringing smiles on your face is our biggest asset, and we make sure that our professionals are fully licensed, insured and vaccinated before window cleaning!