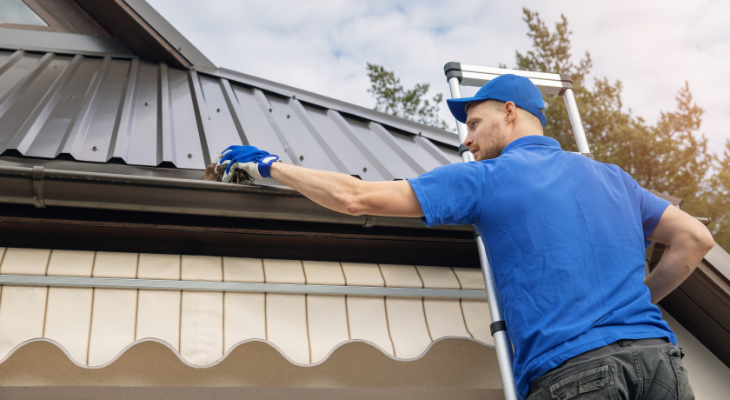 Gutter Cleaning
Canada receives the fourth largest amount of precipitation(including rain and snow). Roof- Gutter cleaning becomes an essential aspect, as gutter clogs can cause many problems like disease-causing bacteria, pests, rodents, and wall leakage. Roof gutter cleaning is the process of cleaning the dirt and debris, rainwater and snow of your gutter.
Gutters should be cleaned regularly as just cleaning them from outside without the help of professionals can cause dirt, debris, and stuck water, which can give rise to pests and harmful bacteria, causing you health hazards! Not cleaning the gutter roof can also cause leakage, cracks and may cause severe damage to the house.
If you wish to get clean and hygienic gutters, cleaning them with the help of professionals can save a lot of expenses later on! Experts suggest that the gutter should be cleaned at least twice a year. You can clean your gutter yourself, but it may not give desired results as cleaning the gutter requires a lot of equipment like vacuum blowers or extension poles.
We provide you with a team of professionals who use the latest technology equipment to clean your gutter without any problems. We have delivered stunning results time and again, which has added years to the roof gutters of our esteemed clients.
Here is the process of how our professionals clean the gutter. First of all, they remove any dry waste materials like leaves, sticks and dirt from the roof or around the chimney with the help of blowers and poles, so it gets easy to clean the gutter. Half the work is done once the dry waste material is removed, as this might become a problem in the process.
Cleaning should be done during rains and winter because, in this season, many unwanted things, including snow, settle on the roof or gutter and block them.
Once the dry waste has been efficiently removed, the wet debris is cleaned from the gutter. Sometimes gutters are clogged with dirt and debris, which are difficult to remove with a bare hand or pole. Our skilled technicians use professional vacuum tools to clear the gutter, which requires deep cleaning as many small particles accumulate and are difficult to remove. The powered blowers immediately flush the water through the gutter and clean it properly.
Sometimes, the roof or outside of the gutter may get dirty and get stained due to deep cleaning. Our professionals know the hacks to remove all the stains, give you a clean space and make sure that the house remains stain-free.
Enjoy every hour of the clock without worrying about the drainage system blocks.
Expert Team
Our team has over 40 years of experience in window cleaning.
100% Satisfaction
Our results and customer testimonials tell you our success story.
Eco-Friendly
Going green is our motto, and we only use environmentally friendly cleaning solutions.
Competitive Prices
Our prices are incredibly competitive, and our services are incredibly satisfying.
TESTIMONIAL
What Does a Happy Client Say?
Doug's Window Washing is willing to travel twenty-five to thirty miles outside the city of Victoria, BC but we do the majority of our work in the city. However, arrangements can be made. Call us; we might be able to help.
The window cleaners are easy to deal with and are knowledgable and friendly.

Marc Wright
Doug's Window Washing did the gutter and window cleaning of my house. As window cleaners they really satisfied me with their work.

Ryan Marsh
Doug's Window Washing were very fine window cleaners very professional in all their work.

Maddy Samson
Fantastic job. My windows look awesome.They were extremely personable, very professional, helpful and friendly.Thank you Doug's Window Washing.

Nataili Gomes