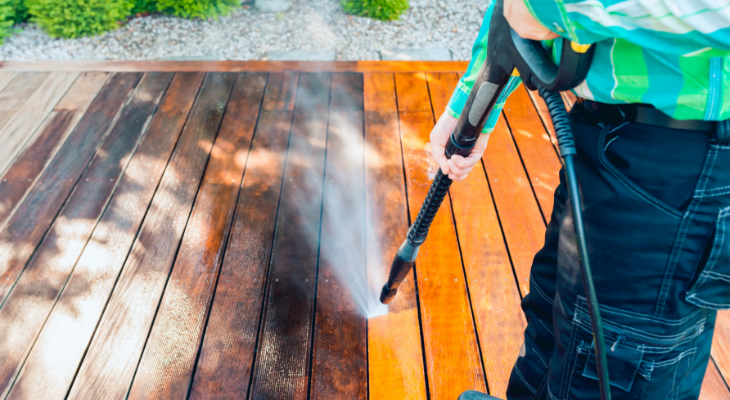 Power Washing
Power washing means cleaning any dirt, mould or paint with high-pressure water and vacuum. A power machine is used to clean the outdoor contaminants with high-pressure water. These high-power machines make cleaning easy and effective. Pressure washing is the best way to keep your home exterior clean from outside dirt, dust, mould and stain, and also keep your surroundings and your house healthy and hygienic.
We offer two types of pressure washing methods, high-pressure washing and soft washing. Hard power washing is used in cleaning hard surfaces like concrete as high-pressure water can clean all the dirt and stains without causing any damage to the hard surface. The high-pressure washing can even remove loose paint from walls with moisture. You can remove that loose paint and make the wall ready for repaint.
Soft washing also involves high-pressure water, but it has less pressure force as compared to hard power. Soft washing is used to clean light surfaces that can't handle too much high water pressure, like cleaning the roof without damaging it.
Power washing is one of the best washing services as it gives a spotless clean area and gives a pleasant appearance, looks, feel and vibes to the place! Furthermore, pressure washing services are easy to use, are extremely impressive, they increase the value of your homes and save a lot of time!
Our professionals have thorough knowledge about the use of pressure washing and whether it is dirt, dust, algae, mould, moss or stains; trust us to give you nothing better than great! Our years of experience have added immense value to our work! After carefully understanding the area to be washed, we adjusted the pressure to be applied, and the time it would take to wash the entire area.
Our professionals pay utmost attention to details while cleaning, and they use a brush to clean some spots which are hard to remove and need a little brushing. We understand the value of every cent, and therefore, our prices are incredibly competitive.
We let you take the back seat so that you can cherish our feat as our professionals make your property ultra clean.
Doug's Window Cleaning - Utilise our services now, and the next time you think about cleaning, you'll pronounce our name with a wow!
Expert Team
Our team has over 40 years of experience in window cleaning.
100% Satisfaction
Our results and customer testimonials tell you our success story.
Eco-Friendly
Going green is our motto, and we only use environmentally friendly cleaning solutions.
Competitive Prices
Our prices are incredibly competitive, and our services are incredibly satisfying.
TESTIMONIAL
What Does a Happy Client Say?
Doug's Window Washing is willing to travel twenty-five to thirty miles outside the city of Victoria, BC but we do the majority of our work in the city. However, arrangements can be made. Call us; we might be able to help.
The window cleaners are easy to deal with and are knowledgable and friendly.

Marc Wright
Doug's Window Washing did the gutter and window cleaning of my house. As window cleaners they really satisfied me with their work.

Ryan Marsh
Doug's Window Washing were very fine window cleaners very professional in all their work.

Maddy Samson
Fantastic job. My windows look awesome.They were extremely personable, very professional, helpful and friendly.Thank you Doug's Window Washing.

Nataili Gomes