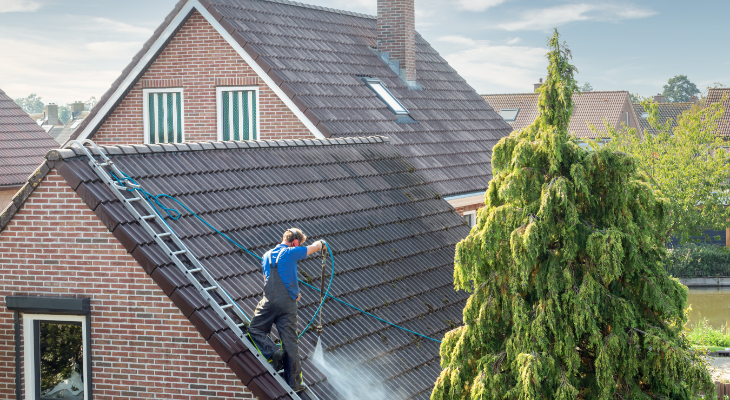 Roof de-Mossing
Mosses are a nuisance as they can cause severe damage to the roofs. Mosses are damp, decaying the structure and weakening the entire structure of the roof. Moreover, mosses are unhygienic and can cause asthma and other respiratory problems. Removing the moss regularly enhances the roof's durability and gives the roof a brand new look, appearance and good vibes.
At Doug's Window Cleaning, we provide one of the best demossing services by using the best equipment. Our professionals have been spreading the smiles on the faces of our esteemed customers by providing excellent demossing services. We make sure that we take off the de-moss without causing any harm or damage to your roof.
Your roof is the first layer of your house, and it is evident that your roof is surrounded by more dirt and pollutants. The moss on the roof can cause various issues like contamination of the roof shingles.
Mosses can be very hard to remove if not removed quickly. Hence, it is always advisable to get your roof cleaned at least once in 6 months or twice a year. Doing such will immediately detect any kind of developing moss and allow quick action for the solution.
It is observed that individuals often choose to clean their rooftops alone, and even after spending much time, they cannot receive satisfactory results—many times, removing the moss damages the structure of the roof. The sole reason behind it is the lack of access to professional equipment and in-depth knowledge regarding cleaning.
Having been in the cleaning industry for 40 years, we are well aware of the latest equipment, and we pay utmost attention to every detail of roof cleaning and do not leave any room for dissatisfaction. We are experts in moss cleaning and giving you an ultra-clean roof.
In the moss removal process, we use a low-pressure hose pipe so that it doesn't damage the roof! We use a stiff brush to remove the moss, and once it has been adequately removed, we make sure that we apply some defensive measures so that the moss doesn't grow again. We apply the least toxic moss killers in the area to ensure that the chemical doesn't harm your roof.
If you clean the moss yourself, there are several risks attached to the same. Firstly, you might use improper equipment to remove the moss, damaging part of your roof leading to high costs. Secondly, sometimes mosses can be tough to remove, and if you use chemicals to remove them, they can pose health hazards! Thirdly, standing on the roof and cleaning the moss is a danger in itself, and you don't want to take the risk of falling!
Our experts take all the safety measures and are a call away to give you a moss-free roof at affordable rates in no time. Book your appointment now, and we'll be happy to help!
Our firm follows all the necessary protocols related to COVID-19 and sticks to the issued guidelines. We are fully vaccinated, and our equipment and tools are adequately sanitized.
Expert Team
Our team has over 40 years of experience in window cleaning.
100% Satisfaction
Our results and customer testimonials tell you our success story.
Eco-Friendly
Going green is our motto, and we only use environmentally friendly cleaning solutions.
Competitive Prices
Our prices are incredibly competitive, and our services are incredibly satisfying.
TESTIMONIAL
What Does a Happy Client Say?
Doug's Window Washing is willing to travel twenty-five to thirty miles outside the city of Victoria, BC but we do the majority of our work in the city. However, arrangements can be made. Call us; we might be able to help.
The window cleaners are easy to deal with and are knowledgable and friendly.

Marc Wright
Doug's Window Washing did the gutter and window cleaning of my house. As window cleaners they really satisfied me with their work.

Ryan Marsh
Doug's Window Washing were very fine window cleaners very professional in all their work.

Maddy Samson
Fantastic job. My windows look awesome.They were extremely personable, very professional, helpful and friendly.Thank you Doug's Window Washing.

Nataili Gomes